Cosmetic dentistry in Burlington: Plenty of options for smile enhancement
The team at Mount Royal Dental understands how important it is to like what you see in the mirror. With an eye for balance, symmetry, and coloring, they consider aesthetics with virtually every dental treatment. You may also choose from a number of procedures designed specifically to improve the appearance of your smile.
Cosmetic dentistry
is a customized process at our office in
Burlington.
Your smile makeover could be as simple as fast teeth whitening, or consist of several procedures phased in over time, to suit your schedule and budget.
Create your new look
Teeth whitening is a great way to "test drive" cosmetic dentistry. With Zoom! in-office whitening, your teeth are shades brighter in about 45 minutes. To brighten gradually in the privacy of home, we provide custom-fit splints and a special bleaching agent.
White fillings. Even if you have a cavity, your smile doesn't have to be marred by silver fillings. Tooth colored composite resin filling materials match your natural dentition beautifully.
Dental bonding is similar to the material used for white fillings. It can be used to reshape teeth and close smaller gaps.
Porcelain veneers and Lumineers can completely transform the teeth that show when you smile. These thin coverings hide chips, cracks, stubborn discoloration, and enamel flaws. They disguise minor misalignment to give the smile near-perfect uniformity.
Invisalign is a great choice for teens or adults who want straighter teeth, but don't want to live with bands, brackets, and wires for several years. These clear aligners are barely noticeable. They fit comfortably and move teeth into attractive alignment with low force.
How important is an attractive smile? It influences how others accept you in personal and business settings, and it has a big impact on how you feel about yourself. For a boost in self-confidence, call Mount Royal Dental in
Burlington
for a
cosmetic dentistry
consultation. The number is
(905) 581-9912
.
Related Cosmetic Dentistry Articles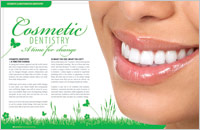 Cosmetic Dentistry – A Time For Change
Join us as we review the myriad of possibilities available to you for cosmetic dental change. But the biggest part is not just how your smile looks, it's how you feel when you show it... Read Article
The Impact of a Smile Makeover
Americans are catching on to the emotional and social importance of a healthy, beautiful smile, and they're seeking out ways to improve their smiles. Learn why and what a change could mean for you... Read Article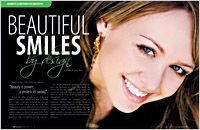 Beautiful Smiles by Design
The first in a series of articles dedicated to the "art and science" of designing a more appealing smile. One of the country's foremost leaders in cosmetic dentistry discusses how you and your dentist partner to create a great new look... Read Article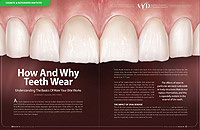 How And Why Teeth Wear
Are teeth supposed to last for a lifetime? And are humans designed to live for up to a hundred years? Given all the current improvements in the areas of medicine and health, both general and oral, people are not only living longer, but they are also keeping their teeth longer. This article will provide an overview of the "oral system" and one of its more common and important occurrences, tooth wear... Read Article