Dental implants in Burlington fill spaces left by missing teeth
When you lose a tooth to trauma, extraction, or disease, it affects more than the appearance of your smile. The gap allows other teeth to shift out of position. These crooked teeth create hiding places for bacterial plaque to thrive, causing tooth decay and gum disease. The absence of a tooth root also contributes to loss of facial bone.
Dental implants
from Mount Royal Dental in
Burlington
reinstate your ability to speak clearly, eat nutritious foods, and maintain a healthier mouth and body.
What is a dental implant?
An implant is a small cylinder made of biocompatible titanium. It is placed into the jawbone acting as an artificial tooth root. Over several months, bone fuses with the implant, creating a solid foundation for a crown. The restored tooth looks completely natural, functions just like your own teeth, and feels normal in the mouth. With good oral care, a dental implant can be a
lifetime restoration.
Specialized treatment
Planning and placement of dental implants requires precision. Our general dentists are experienced in the procedure. At Mount Royal Dental, you have the added assurance of an oral surgeon with specialized instruments for complex cases, such as those that require bone grafting. Our dentists use three-dimensional cone beam technology (CBCT), implant guides, and dental implant stents for predictable outcomes.
Versatility
In addition to restoring a single missing tooth, multiple teeth or a full arch can be replaced with dental implants. The All-on-4 system holds a denture securely on four implants. Mini-dental implants have a smaller diameter and are specially designed to be "loaded" immediately. You can wear your denture the same day the implants are placed, so you
don't have to go a day without teeth.
A
dental implant
is the closest alternative to a natural tooth that modern dentistry has to offer. Call Mount Royal Dental in
Burlington
for a complimentary consultation –
(905) 581-9912
.
Other Related Dental Implant Articles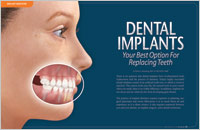 Dental Implants – Your Third Set of Teeth
A discovery fifty years ago paved the way for one of dentistry's most exciting, natural looking and successful tooth replacement systems. Learn how dental implants might just possibly change your life... Read Article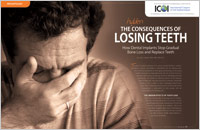 The Hidden Consequences of Losing Teeth
For those missing even one tooth, an unsightly gap is actually the least significant problem. What's of far greater concern is the bone loss that inevitably follows tooth loss. Dental implants fused to the jawbone can preserve bone, improve function and enhance psychological well-being. Learn how implants serve both as anchors to support replacement teeth, and preserve bone as one of the better preventive maintenance procedures in dentistry... Read Article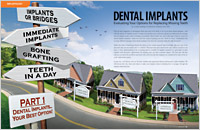 Dental Implants - Evaluating Your Options for Replacing Missing Teeth
As we guide you through the marketing hype you'll see that well planned implants most often require a team approach in assessing whether they're right for you. Not only are they a better treatment choice, they will last longer, possibly a lifetime, making them the right choice and the most cost effective option long term... Read Article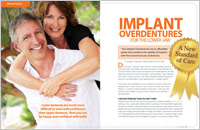 Implant Overdentures for the Lower Jaw
Implant overdentures represent a major change for the dental profession and the public. The lower jaw two-implant overdenture may be considered a more appropriate starting point over regular dentures... Read Article